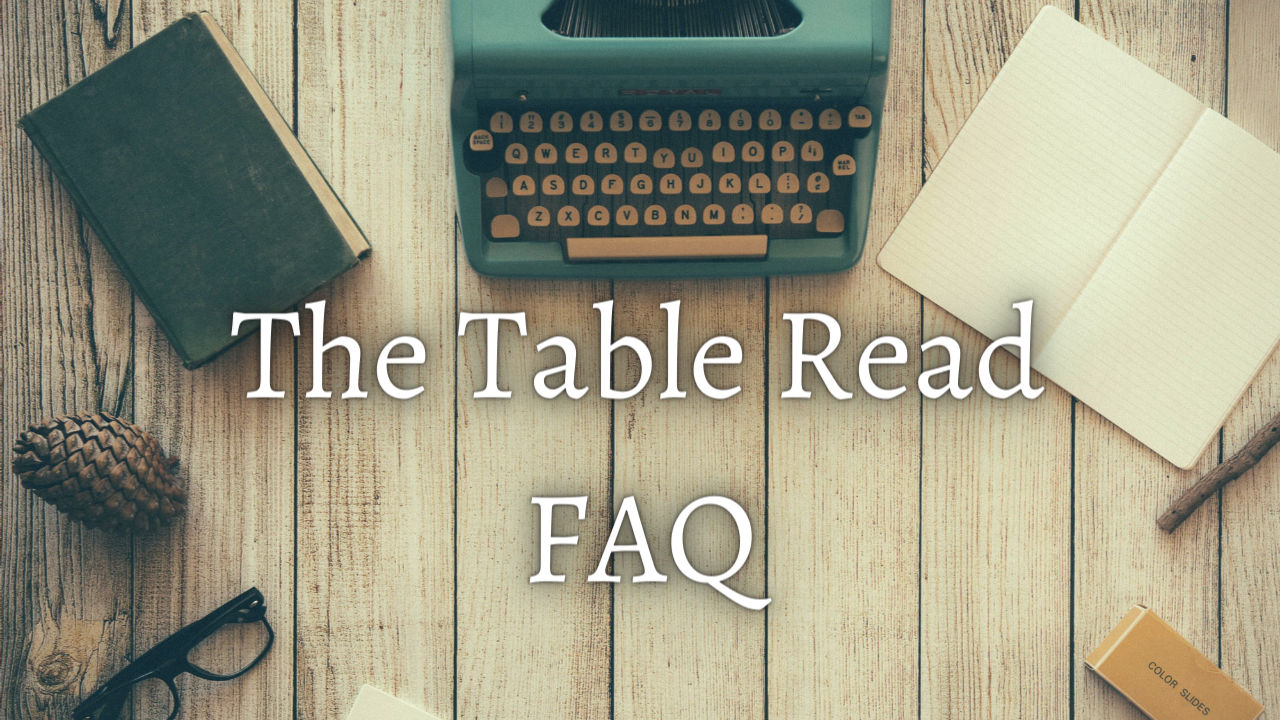 As an Amazon Associate I earn from qualifying purchases.
What is The Table Read Magazine?
An online magazine celebrating and promoting arts, entertainment and creativity.
Who created The Table Read Magazine?
The Table Read is a subsidiary of Siren Stories, an independent entertainment business. JJ Barnes, co-founder of Siren Stories, runs The Table Read.
When did The Table Read Magazine start?
We launched in June 2021.
Why are there older articles?
When we started The Table Read Magazine, old articles from JJ Barnes writing advice blog were migrated over. The content is now available for aspiring writers, both on the blog and on YouTube, to encourage, teach and support those in the writing community.
Who features on The Table Read?
We feature individuals and businesses. As long as the content is about arts, entertainment or creativity then you have a place on The Table Read. We put out interviews with creators, articles written by individuals, and press releases from PR companies.
How do you conduct the interviews?
All our interviews are done through writing. We don't interview over the phone, in person, or through Zoom.
This means we are able to feature more people, we have full records that everybody involved can see, contributors can be confident that their work is represented accurately, and we can feature writers around the world with no worries about time-zone or schedule clashes. Also because JJ Barnes works from home and has young children.
How are the articles presented?
All our content is presented according to The Table Read standard layout. This means original work is edited to suit the format, but the wording isn't changed. We also produce original graphic images for the heading. We are happy to include links throughout your sent in text, to send traffic to your website, social media or products.
Is any content banned on The Table Read Magazine?
We take each contribution on a piece by piece basis, but in theory the only content we won't feature or backlink to is pornography. However, sometimes pieces will be rejected because they don't fit with the general feeling of The Table Read.
How do you promote your contributors?
All our contributors have their content shared and promoted across social media. Most articles are shared to our Facebook, Twitter, Instagram and LinkedIn pages. We also put out email blasts to subscribers to our mailing list.
Do you promote on YouTube?
We have recently launched the Get To Know… series on YouTube. This will be a series of videos made by writers, artists, podcasters, actors, filmmakers etc, answering questions about their work in video format. These videos are going onto the Siren Stories YouTube Channel to be promoted across all our social platforms.
Do you write reviews?
Our in-house reviewer, Jonathan McKinney, reviews film and music content. However, we do guest post reviews from other writers related to any other entertainment content.
Do you charge for promotion?
As a standard, no we do not. We want to keep The Table Read free for all users, both contributors and readers. Working in arts and entertainment is often very challenging, and a lot of promotion is expensive. Our passion for celebrating the work of creatives means we want to try and keep The Table Read as a space where artists don't have to worry about paying to get attention for their work.
How long does it take for a submitted article to be posted to The Table Read Magazine?
We operate a strict first come first serve process to keep The Table Read Magazine fair. During particularly busy periods this can mean a wait of several weeks between article submission and article publication. However, we know that this wait will not suit everybody so we created a Premium Service that allows you to jump to the front of the queue if needed.
What is the Premium Service?
We're still a very small team, and the number of people wanting to feature on The Table Read Magazine is growing rapidly. Due to high demand, there can be a wait of several weeks between submission and posting, and we are not able to respond to emails as quickly as we would like.
We've set the Premium Service to £20 per article to get priority same day/next day (depending on time of receipt) posting.
For posting within one week of receipt, the price is set at £10.
To take advantage of the Premium Service, you can order HERE. Once payment is made, email your transaction ID and article, along with your photographs and links, to premium@thetablereadmagazine.co.uk
This does not mean we will stop putting out free promotion content, and remain committed to supporting the artistic and creative communities.
Do you pay your contributors?
No. The Table Read is designed to put attention on the work of others and drive traffic in their direction. Whilst we don't charge for this promotion, we also don't pay to do it. All content written that is not advertising for the work of others is written by Siren Stories staff.
How do you make money?
We run adverts on The Table Read, and also we have a tip jar which we hope satisfied contributors will use. However, it is not compulsory.
What are the Most Read Awards?
Every 1st of the month we celebrate the three most read contributors of the previous month with our Most Read Award. These winners can have been published in any month prior to the award going out. However, we only award once, so if you are the most read in multiple months the award will go to the next most read.
On January 1st, however, we celebrate the top three most read contributors of the entire previous year.
If you win, you will be sent an award graphic via email to display and use when promoting your work. Your article will also feature an award image to show readers that it has won and is a popular article.
How can I get my work on The Table Read Magazine?
Send an email to contact@thetableread.co.uk with information about your work or product. You will then be sent information about what style of feature is available right now and what you need to do. There is sometimes a delay in features going out as we like to vary the content each day, but as long as your piece has been accepted it will go out.
Can I get my work edited or removed if things change?
Yes. We can update wording or graphics, or pull articles entirely, if anything changes. However, it might not happen immediately depending on workload so please be patient.
Donate to support The Table Read
We strive to keep The Table Read free for both our readers and our contributors. If you have enjoyed our work, please consider donating to help keep The Table Read going!

Processing…
Success! You're on the list.
Whoops! There was an error and we couldn't process your subscription. Please reload the page and try again.
Amazon and the Amazon logo are trademarks of Amazon.com, Inc, or its affiliates.